5 HELPFUL STEPS FOR NAMING YOUR BRAND
Heads Up: The Partnership that Amplifies Our Offerings
We're thrilled to share groundbreaking news: Anvil and Deksia have joined forces in a transformative merger. By blending Deksia's game-changing creative processes with Anvil's performance marketing prowess, we're expanding our service offerings and industry expertise. Both current and future clients stand to benefit greatly. Curious for more details? Head over to our press release page.
Creating a new name is a common and important step in the rebranding process. Maybe you're moving past the purpose captured by your original name, or you're trying to stand out in a saturated market. Either way, your name is the face you present to the world. Naming your brand well can make the difference between getting lost in acronyms and carving out a viable spot in the market.
Choosing a good name may seem like a simple task at first glance, but the process takes considerable effort and shouldn't be approached carelessly.
Using real clients as examples, we've created a useful resource that helps you not only pick a good name, but lay the groundwork for getting it established. So grab a piece of paper or open up a word doc, and let's get started.
1. IDENTIFY YOUR CORE BRAND IDEAS
First, write down your core brand ideas. What is your company all about? Are you fundamentally friendly, efficient, or professional? The qualities of your brand, along with the product or service you provide, should be somehow represented or emphasized in your name.
Take Uptime Lift Management, a company that repairs lift machines, for example. They needed a rebrand in order to help them better stand out in their market. We settled on the name Uptime Lift as a play on the concept of cutting machines' downtime to zero through quick repairs.
If you can incorporate what your company does into your name in a unique and unexpected way, that's a great starting point.

Yello Dumpster, a trash hauling service, is another example of a name that demonstrates core values. The Yello brand emphasizes friendliness in an industry that's not usually considered friendly. Not only is yellow the primary brand color, but whenever someone answers the phone at Yello Dumpster they say, "Yello!" Your name should be consistent with the tone, overall feel, and message of your brand.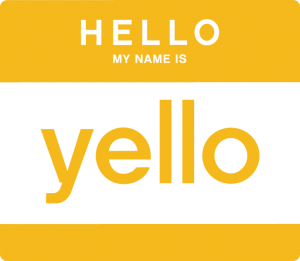 2. BRAINSTORM & CONSIDER YOUR COMPETITORS
Now, make some space and write as many of your competitors' names as you can. By seeing what they have in common, hopefully you'll get a sense of what you can do differently when naming your brand.
Next, write down all the words related to your product or service. Use these lists as a starting point for new ideas. Remember, uniqueness is best. If every last one of your competitors has the word 'construction' in the title, leave it out.
Let's look at Chop, a tree cutting service we separated from its parent company, Procare, and revamped with a new identity. This is a good example of a company that stands out in a field saturated with names that include the words "lawn" and "care." Keeping the company's core service in mind, we landed on Chop. It conveys the service provided, it's short and easy to remember, and it has low competition for online search results (which we'll come to later).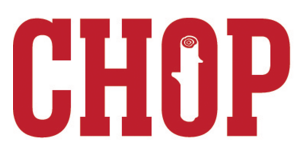 3. CREATE AN EVALUATION METHOD
Once you have a long list of possible names, it's time to narrow down the possibilities. Here are some questions we ask when considering a brand name:
Is the first impression strong?

Is it easy to read?

Does it feel right when used in multiple sentences?

Are quick associations positive?

Does it relate to the primary benefits of the company or service?
A thesaurus will be your friend here. Want to emphasize speed in the name? Find a less commonly used synonym to play around with.
4. RESEARCH EXISTING BRAND NAMES
No matter what product or service you provide, you're going to need an online presence of some sort. Use GoDaddy or a similar site to find out if the domain for your new name is available. All the company names mentioned in this article were chosen with low domain competition in mind.
You may have to compromise and settle for a slightly different domain than the name itself, but this can also be used to your advantage. For Chop's domain, we landed on "we-chop.com."
You'll also have to check for trademarks.
When Apple Inc. was founded in 1976, they ignored the fact that the Apple brand name was already taken by Apple Records, the company founded by the Beatles. This would result in four separate lawsuits between 1978 and 2006, before the matter was finally settled in 2007 for over $500 million. To avoid Apple's mistake, make sure the name hasn't been trademarked already using the USPTO website.
5. IDENTIFY COMMONLY SEARCHED TERMS
It's also important to consider the amount of traffic your name will draw online.
SEO (Search Engine Optimization) is all about increasing web traffic and ensuring the people who visit your site actually want to be there.
Use Google Keyword Planner to get an estimate of how many searches your name gets and how much competition to expect from similar words. When someone googles your name, you want your site to be the first result. For access to keywords, sign up for a Google AdWords account(it's completely free) and look under tools for the keywords program.
The process of naming your brand is like walking a tightrope between originality and messaging. It may take time to find just the right balance (that works on all accounts), but don't settle for mediocre.
Your name is your foundation. As one of your greatest marketing tools, a good one is well worth the effort.
RELATED READING